THE BEST RACING
WEATHER STATION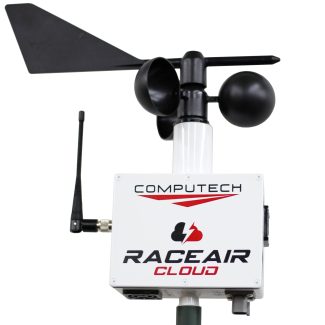 The RaceAir Cloud is the #1 racing weather station and is used by nearly every professional drag racer for a reason, it's the best. From Top Fuel to PDRA to Big Money Bracket Races, there is only one weather station those at the elite level trust, the RaceAir Cloud. We custom calibrate every single unit so that it is accurate and have been the industry leader in racing weather since 1988. The RaceAir Cloud is unparalleled in quality, features, reliability and customer support.
THE BEST DRAG
RACING SOFTWARE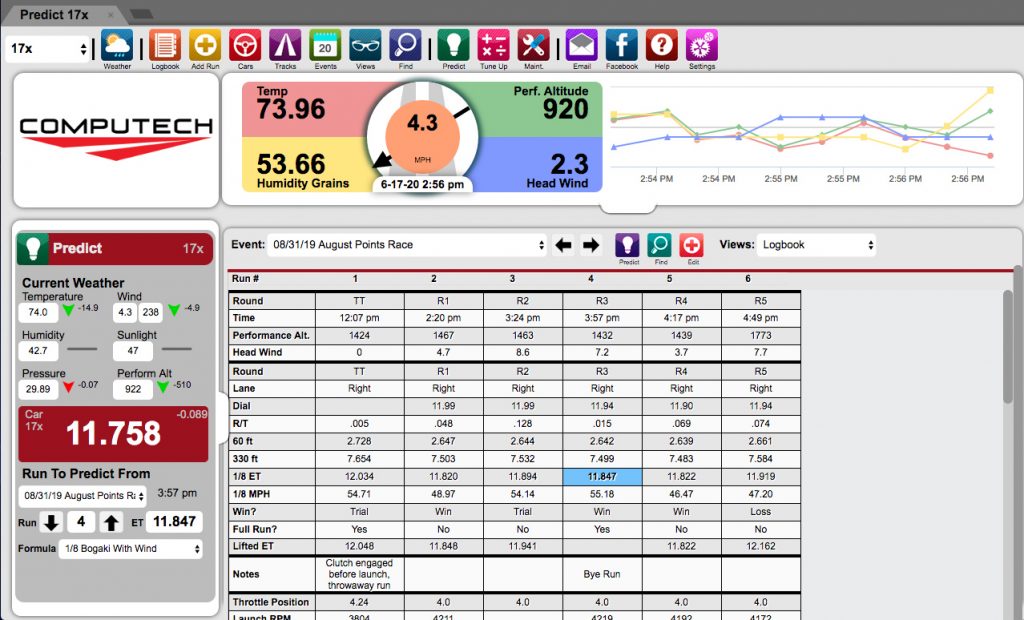 The RaceBase is hands down the best drag racing software on the market. We have spent a lot of time making the software as easy and intuitive to use as possible. We like to compare it to Microsoft Word; the first time you see it, it was probably overwhelming, but once you get used to it you realize how easy it is. With RaceBase we don't clutter up things with too many options and things work the way you would expect them to. The learning curve will be short with the RaceBase logbook and there are even video tutorials built in for easy reference.
COMES WITH EVERYTHING
/

/

/ HARDWARE INCLUDED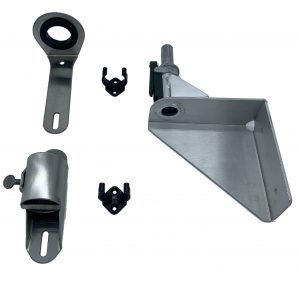 We have not cut any corners when it comes to making the installation as clean and seamless as possible and we provide you with absolutely everything you need. We supply you with outdoor pole mounting brackets that are designed to fit in existing trailer flashing screw holes, and an indoor trailer storage bracket to keep your Cloud safe during transport. You will also have the option for either a 4-8′ or 6-12′ expandable cam lock pole as well as trailer storage brackets for the pole to ensure they are secured during transport. Installation process is easy and takes less than a couple hours to do cleanly.
EASY SETUP  

/

/

/ QUICK & EASY

.
The RaceAir Cloud racing weather station has been designed to make the race day setup process as easy and quick as possible. We supply you with the brackets to mount on the outside of the trailer, a cam lock expandable pole and even storage mounts for the Cloud and pole at the end of the day. Setting up and flying your RaceAir Cloud is as simple as plugging the Cloud in, placing it on the pole, placing the pole in the supplied brackets and firing up the software.


The RaceAir Cloud incorporates the ability to add Wind Speed & Wind Direction. Knowing the wind speed and direction can go a long way to getting your car dialed down, especially true for Jr. Dragster and slower ET cars that are more likely to be effected by tail and head winds.
To improve the reliability of using head wind in ET predictions, we automatically calculate head wind as a single value to let you know how much the wind effects you. 0 and 360 degrees is a tail wind and 180 degrees is a head wind. We also take the head wind value every second and give you a rolling 60 second average of the head wind.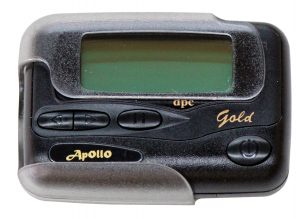 If purchased with the optional paging feature, you will receive your own closed circuit paging network that does NOT require any internet or cell phone service. This is the most reliable way to ensure you can get your up to date weather to the staging lanes regardless of cell service.
TRAILER INSTALL KIT 

/

/

/

CLEAN.
The RaceAir Cloud comes with a 40′ cable that will go from the black interface box on the counter to the RaceAir Cloud sitting on the pole. The trailer install kit gives you three different cables. A 40′ trailer wall cable which will run through your trailer wall. A short 2′ cable to connect the interface and either a 8 or 12′ cable that will run up the pole and connect to the RaceAir Cloud. This make the installation clean and out of the way.
Other options include a RaceAir Cloud Storage Case that keeps your Cloud and all of it's components secure for winter or shipping. The storage case is not needed during the season as the RaceAir Cloud already comes with a Trailer Storage Bracket.
CUSTOMIZABLE ET PREDICTION
/

/

/ EASY TO FINE TUNE
When it comes to ET prediction, there is no one size fits all solution and you really do need to be customizing a formula for your particular car. All you have to do is understand how much a weather variable has to change before your car moves a hunderth (.01) and then update that in your prediction formula. We even have a Variable Effect on ET tool that will allow you to compare two runs and see how sensitive your car was to a speicific variable. If you then punch that value into your prediction then you have customized your formula for your car, with data from your car.

ET PREDICTION REPORT CARD
/

/

/ GRADES EACH FORMULA
Having all of these ET prediction formulas are great, but how do you know which one you should be using for your car? Our Prediction Report Card allows you to know exactly which prediction formula is working best for your specific car. RaceBase will simulate each of your past events and give you a Report Card with a letter grade indicating how well each formula did.
You put in the work on a Tuesday or Wednesday and when you are at the race track, and about to second guess yourself like usual, you realize that you have already done the work and have confidence in what it says, lowering your stress level and allowing you to focus on driving.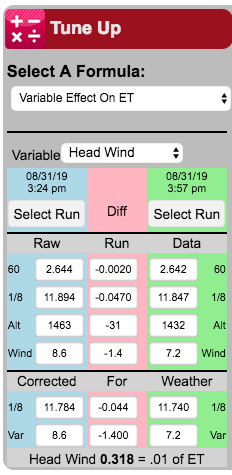 There are multiple tuning tools available including a Run Completer and our powerful Variable Effect on ET tool. This allows you to compare two seperate runs and then determine how sensitive your car is to a certain variable. You can then take that number value and input it into your formula and you have then customized a prediction formula for your car, based on your cars data. We only want to use this tool on passes where a single variable changed, like a change from day to night where the humidity grains kick in.
Our Holley, Precision and Mikuni Jetting Prediction will keep your air/fuel mixture the same every week. With a consistent air/fuel mixture you react to weather changes consistently and can utilize the same prediciton formula all year long.
JR DRAGSTER & THROTTLE STOP
/

/

/ INDEX RACING MADE EASY
At Computech, we have been running Jr. Dragsters with Rowans Racing and have applied an enourmous amount of knowledge to the RaceBase program. Included is a easy to customize Jr. Dragster specific prediction formula that will help you get a handle on the wind changes. The Mukuni tuning program will keep your car tuned the same week in and week out and even offers multiple jets and air ranges to make choosing the right jet for an event easier. And our weight index formula allows you to move weight in and out to hit that 7.90, 8.90 and 11.90 indexes.
For throttle stop we utilize a simple interface to easily fine tune your throttle stop predictions. We also have the ability to grade your throttle stop prediction in our Prediction Report Card.