We have streamlined the process of adding a run to a computer after a pass. You are able to customize not only what variables we are able to keep track of but also organize the order in which you add those variables after a pass. The database also has the ability to create a Preloaded Variable which means that it will automatically fill out that field each time you add a run, based on what the previous runs value was. This allows us to keep track of a massive amount of variables with a minimal amount of effort.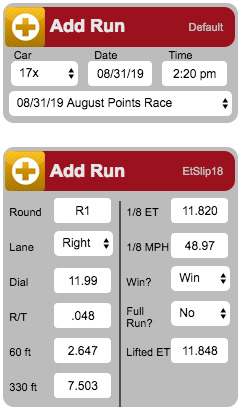 With formulas from Computech and Luke Bogaki with This Is Elite Bracket Racing the RaceBase software allows you to fine tune each formula for your specific car. Our formula wizard allows you to easily modify how much each variable is effecting your ET. Once you have saved the formula you can then utilize our Prediction Report Card to determine how accurate that formula would have been at your past events! This allows for a massive amount of customization with confidence the formula is perfect for you.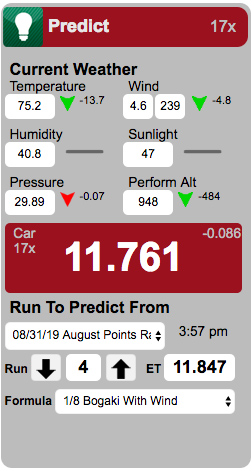 PREDICTION ANALYSIS TOOLS
/

/

/ FINE TUNING MADE EASY
Our Prediction Analysis tools allow you to know exactly which prediction formula is working best for your specific car. RaceBase will simulate each of your past events and give you a Report Card with a letter grade indicating how well each formula did. By using our Wizard you are able to easily customize your ET prediction method for your specific car and even add additional variables that will adjust the prediction.
This gives you the ability to tweak a formula, then test it, tweak it again and test it. If you can see that your new formula would have predicted every run within a couple thousandths then you'll have absolute confidence going into your next race.

ADVANCED DATABASE DESIGN
/

/

/ TRACK EVERYTHING WITH EASE
The strongest aspect of the entire program is its ability to keep track of absolutely every variable you may ever want to track, yet not overwhelm you with too much data when you're trying to analyze it. For this reason we have the ability to create as many different variables as you would like. You can then group those variables into as many categories you would like such as Launch Stats or Run Setup. And finally you can create multiple different Views to show that data on your logbook. This allows you to have a view that focuses on launch, or a view that focuses on suspension or whatever you would like.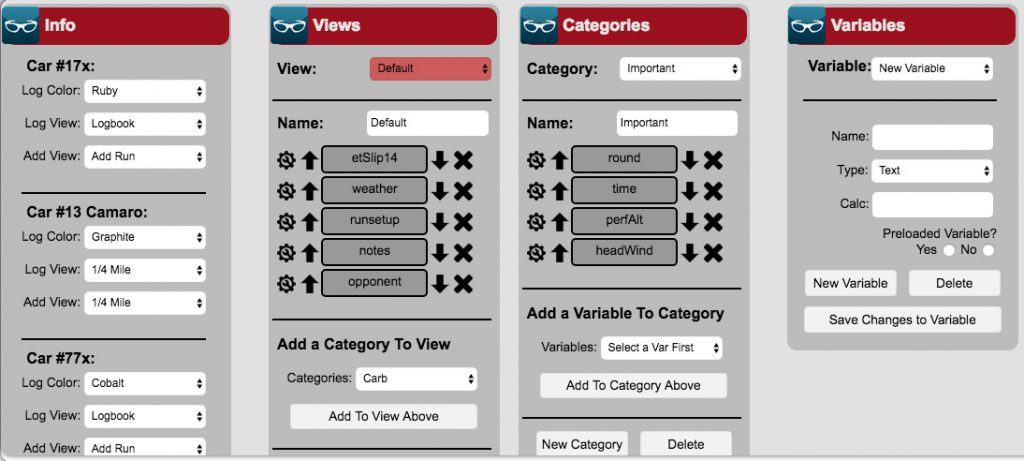 The Tune Up option gives you the ability to tune your Holley, Precision or Mikuni carburetors. There are also additional calculations such as Run Completer, Standard Day and more. One calculation called Variable Effect on ET allows you to easily compare two runs and determine exactly how much that one variable effected your ET. You can then go plug that value into your prediction formula to make it more accurate for your car and then test it on past events to confirm it works better!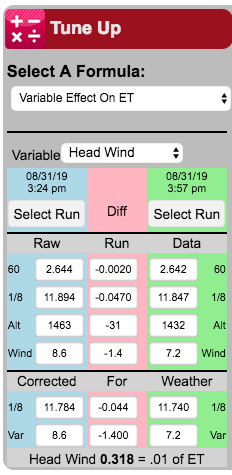 The find run feature is another very powerful tool that allows you to create and save a search for quick reference in the future. We've taken it a step further and allow you to create a search based on your most recent run. So if you'd like to save a search that shows you all of the runs where the weather was within 50 feet of your last pass you can. You can also combine multiple search parameters to create very detailed and valuable search results.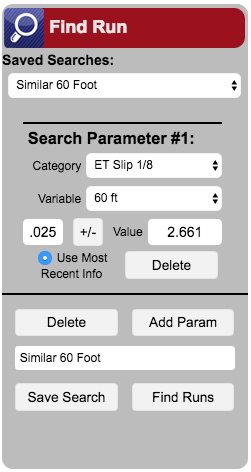 Just as the previous generation of this software, the RaceBase Logbook Edition comes with the ability to connect to any RaceAir Cloud weather station. It will allow you to easily save a weather day, keeps a table and graph of each variable and allows you to pull up these older weather files to review whenever you would like. With the RaceAir Cloud you also have the ability to send ET Predictions to your phone through text messages or through a dedicated pager.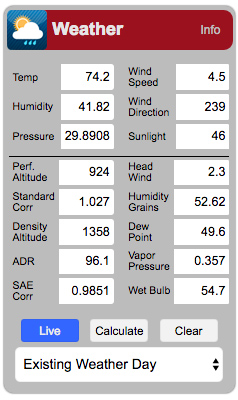 The Maintenance feature allows you keep track of exactly how many runs you have on each maintenance item and will auto increment for each pass that car makes. If an item has reached the warn level it will let you know when you first open the software and if max is reached will remind you after each pass. Each time you service an item, it is recorded in your Service Log so you can easily go back and see exactly when you change the oil or tires.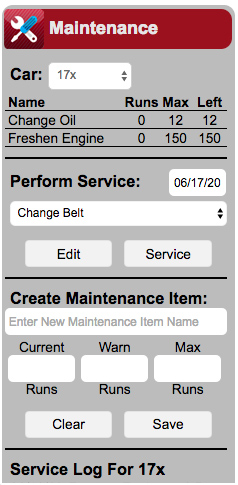 HELP VIDEO TUTORIALS 

/

/

/ BUILT INTO EVERY OPTION
We have gone the extra mile and included a help video tutorial for each of the widget options available. If you are on Add Run and have a questions, simply hit the Help button and a video specifically for Add Run will automatically play.
JR. DRAGSTER WEIGHT INDEX
UPDATE v2.3.0 LOGBOOK STATS
UPDATE v2.4.20 WEATHER ORDER
UPDATE v2.4.20 – STANDARD DAY
CREATING CALCULATED VARIABLES
DATABASE BACKUP & TRANSFER
DIAL STRATEGIES & AVERAGING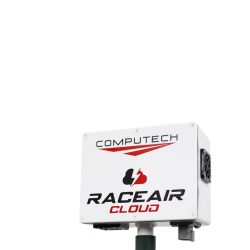 RACEAIR CLOUD
/

/

/ BASE MODEL








RACEAIR CLOUD
/

/

/ BASE MODEL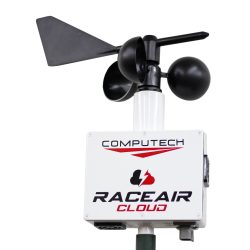 RACEAIR CLOUD
/

/

/ WIND MODEL








RACEAIR CLOUD
/

/

/ WIND MODEL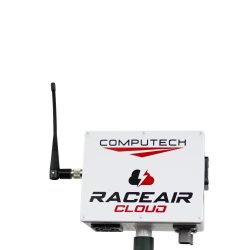 RACEAIR CLOUD
/

/

/ PAGE MODEL








RACEAIR CLOUD
/

/

/ PAGE MODEL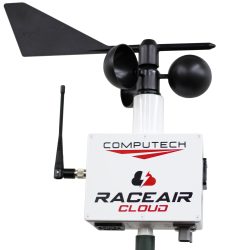 RACEAIR CLOUD
/

/

/ DELUXE MODEL








RACEAIR CLOUD
/

/

/ DELUXE MODEL